Foundation Repair
Searching for a foundation repair contractor can be a confusing adventure.  Many customers have told us they interviewed three or four contractors and have had just as many different solutions presented.  Knowing who to trust to solve the foundation problem takes some homework.
Some foundation repair contractors are part of a franchise or national chain.  These types of companies hire and train sales people to sell their one size fits all solution to every prospective customer.  And they can be very convincing.  Other foundation repair contractors are a family business.
Some foundation repair contractors are locally owned and operated family owned business.  Many of these types of companies do things one way, "the way we've always done it".  Namely the family based businesses may not be aware of the latest technologies and improvements in materials and techniques.
Established in 1979, Pioneer Basement Solutions is a locally owned and operated.  We offer multiple solutions and stay up on industry improvements in materials and methods therefore we are not your typical foundation repair contractor.  We do not hire and train sales people to spit out a scripted presentation.  You will be greeted by an expert able to explain the cause of your foundation problem and how each solutions works.  As a result, you are able to make the most informed decision.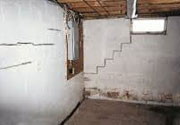 Foundation Repair Categories
Bowing basement walls
Settling foundation
Tipping foundation
Sliding foundation
Rotting foundation
Bowing Basement Walls and or Tipping Foundation Fixed Permanently: Carbon Fiber / Kevlar Mesh
Today's latest repair solution for bowing basement walls is carbon fiber mesh "straps" which are embedded into the face of your foundation walls. Fortress Stabilization offers a system made of both carbon fiber and Kevlar meshed together giving them the ultimate in tensile and shear strength. These straps are smooth to the wall and paintable making them barely noticeable.
This is the only method available for bowing basement walls that come with a lifetime guarantee… and no maintenance!

Other older methods available on the market include steel I beams, wall anchors and concrete and rebar fill.
 Settling Foundation Permanently Solved: Stabil-Loc Piering
Commonly referred to as "underpinning", foundation piering involves installing support from underneath your sinking or sunken foundation therefore stabilizing it to prevent further settling.  There are several types of foundation piers to choose from, the Stabil-Loc pier is installed directly under the foundation for the ultimate in strength and support.

Important!
Foundation settlement and movement resulting in the need for foundation repair can be caused by building on expansive clay, compressible or improperly compacted fill soils, or improper maintenance around foundations. Whatever the cause, settlement can destroy the value of structures and your home and even make them unsafe. If you think that there is a problem with your foundation, call for a professional foundation assessment of your property. We will be able to assess any damage that has occurred and determine the best plan for your situation. The foundation of your home needs to be routinely checked. Small cracks can end up causing big problems in the future!
Sliding Foundation Fixed Permanently
Blocks can break free at mortar joints and slide inwards. Typically the cause of this issue is a combination of soil pressure and failing foundation drainage.  Clogged or backing up foundation drains allow water to build up and get top the bottom rows of block.  This water can rot the mortar joints between the rows of block making the weak.  The weakened points in the wall can give way allowing blocks to slid inward over the row below them.  This movement is commonly referred to as sheering.
The solution to this problem depends on two factors. How far has your foundation has slid out of place?  Is the foundation deteriorating?  Some may be stabilized to stop further movement and others may need foundation replacement.  Contact us today for an inspection.
Rotting Foundation Fixed Permanently
If you have foundation blocks rotting, crumbling apart and or falling out of place you may need foundation replacement.  Over time the original waterproofing system on the foundation deteriorates.  This system is typically comprised of "parging" which is a thin coat of mortar or concrete that seals up the pores of the foundation and creates a smooth surface.  Then a coating of a waterproofing sealer is applied often referred to as tar.  The tar coating is an asphalt based sealer much like what is used to seal blacktop driveways.  Over time the black coating biodegrades.  Once the black seal is gone then the damp soils begin to soak into the concrete or mortar coating (parging).   Dampness in the parging will begin to deteriorate it and as a result the foundation wall becomes porous again.  Once the foundation is soaking dampness into it it will start to loose its bonding agent which is lime.  This causes a white powder to appear.  This process is known as efflorescence.  Eventually foundation rot and mortar rot will lead to blocks shifting, crumbling and in need of replacement.
If you catch this process early enough the exterior surface can be restored and the foundation can be dry again.  Exterior basement waterproofing and foundation reinforcement can save the foundation and offer many decades of dry stable performance.  Contact us today for an inspection.


Check out our Angie's List reviews by clicking logo above! Nine time Super Service Award Winner!
Foundation repair and basement waterproofing offered in the following areas:
Carroll County, Ohio:
Carrollton, Delroy, Malvern, Sherrodsville.
Columbiana County, Ohio:
Columbiana, East Liverpool, East Palestine, Hanoverton, Leetonia, Lisbon, New Waterford, North Georgetown, Salem.
Cuyahoga County, Ohio:
Bay Village, Beachwood, Bedford, Berea, Brecksville, Broadview Heights, Brook Park, Brooklyn, Cleveland, Cleveland Heights, Euclid, Fairview Park, Garfield Heights, Highland Heights, Independence, Lakewood, Lyndhurst, Maple Heights, Mayfield Heights, Middleburg Heights, North Olmsted, North Royalton, Olmsted Falls, Parma, Parma Heights, Pepper Pike, Richmond Heights, Rocky River, Seven Hills, Shaker Heights, Solon, South Euclid, Strongsville, University Heights, Warrensville Heights, Westlake.
Geauga County, Ohio:
Bainbridge, Chardon, Russell, and surrounding areas.
Mahoning County, Ohio:
Canfield, New Middletown, Sebring, Youngstown, and surrounding areas.
Medina County, Ohio:
Brunswick, Granger, Guilford, Hinckley, Lafayette, Litchfield, Medina, Sharon, Wadsworth, Westfield.
Portage County, Ohio:
Atwater, Aurora, Brimfield, Deerfield, Edinburg, Freedom, Garrettsville, Hiram, Kent, Mantua, Palmyra, Randolph, Ravenna, Rootstown, Shalersville, Streetsboro, Suffield, Windham.
Stark County, Ohio:
Alliance, Brewster, Canal Fulton, Canton, East Canton, East Sparta, Hartville, Jackson Township, Louisville, Massillon, Minerva, Navarre, North Canton, Uniontown, Waynesburg.
Summit County, Ohio:
Akron, Barberton, Bath, Boston Heights, Copley, Coventry, Cuyahoga Falls, Fairlawn, Green, Hudson, Lakemore, Macedonia, Mogadore, Munroe Falls, Norton, Peninsula, Richfield, Sagamore Hills, Silver Lake, Springfield, Stow, Tallmadge.
Trumbull County, Ohio:
Newton Falls, Warren, and surrounding areas.
Tuscarawas County, Ohio:
Bolivar, Dennison, Dover, Newcomerstown, New Philadelphia, Sugarcreek, Uhrichsville, Zoar.
Wayne County, Ohio:
Apple Creek, Canaan, Congress, Creston, Dalton, Doylestown, Fredericksburg, Kidron, Lebanon, Marshallville, Orrville, Rittman, Shreve, Smithville, Sterling, West Salem, Wooster.
Pioneer opened for business in 1979.  We have a proven track record of customer satisfaction!